AUGWL0030-JN02
12", Aluminum Die-cast Frame
3" CCAW Voice Coil, GFB-G Former
Paper+carbon Cone, Rubber Surround
Ferrite Magnet Motor System
High Sensitivity
Copper-Shorting Ring
This 12 inch 8 ohm Woofer driver features a strong ferrite magnet motor system with bump bottom plate and long throw
voice coil, which has high excursion. The distortion can be decreased by Aluminum short circuit ring at
low frequency, the semi-pressed paper cone uses a new mixed material of 40% pulp and 60% carbon
fiber to make the sound stronger and sonorous. Beyond that, the wonderful collocation of foamed rubber
surrounding, CCAW and short circuit ring can provide high SPL and extended high frequency.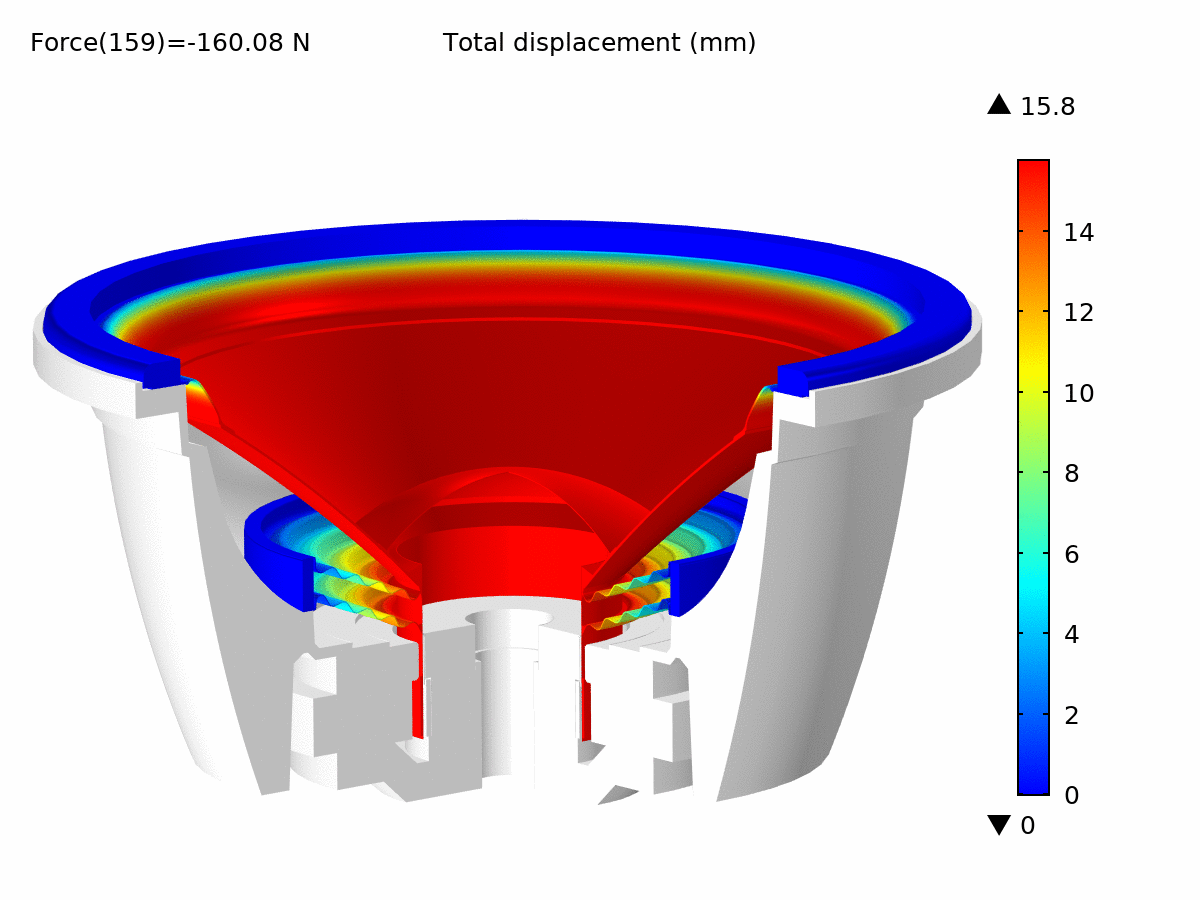 T-S Parameters
Resonance frequency [fs]
34 Hz
Mechanical Q factor [Qms]
6.22
Electrical Q factor [Qes]
0.425
Total Q factor [Qts] 
0.398
Force factor [Bl]
15.0 Tm
Mechanical resistance [Rms]
2.642 kg/s
Moving mass [Mms] 
77.521 g
Compliance [Cms]
0.287 mm/N
Effective diaph. diameter [D] 
260 mm
Effective piston area [Sd]
530.93 cm²
Equivalent volume [Vas]
114.5 l
Sensitivity (2.83V/1m) 
91 dB
Ratio Bl/√Re
6.41 N/√W
Ratio fs/Qts
85.4 Hz
Electrical Data
Nominal impedance [Zn] 
8 Ω
Minimum impedance [Zmin] 
6.3 Ω
Maximum impedance [Zo]
64.87 Ω
DC resistance [Re]
5.5 Ω
Voice coil inductance [Le] 
0.391 mH
Power Handling
100h RMS noise test (IEC 18.4)
100 W
Long-term max power (IEC 18.2)
200 W
Voice Coil & Magnet Data
Voice coil diameter
75.5 mm
Voice coil height
20.5 mm
Voice coil layers
1
Height of gap
13 mm
Linear excursion
± 3.75 mm
Max mech. excursion
± 18.5 mm
Unit weight
7.5 kg